Taking to Sea, as seen by women
by Debbie Huntsman/National Women Sailing Association 22 Apr 06:03 AEST May 21, 2022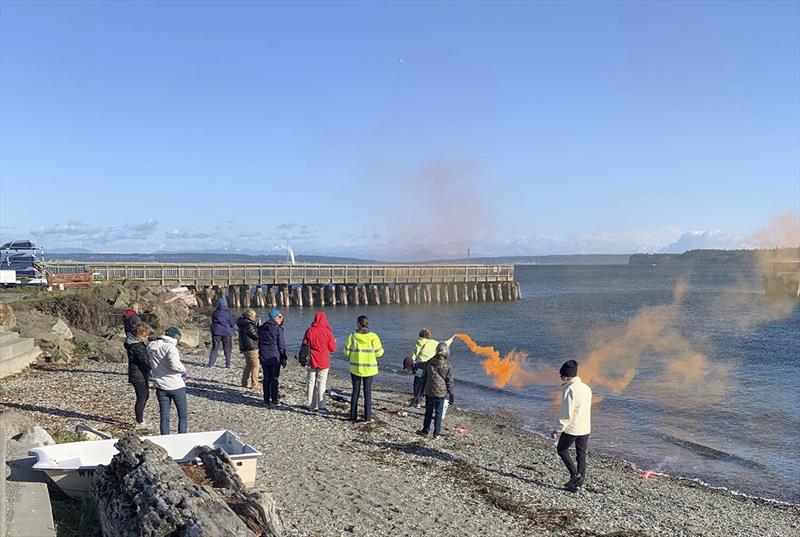 US Sailing Sanctioned International Safety at Sea course © National Women's Sailing Association
Are you getting your boat and crew ready to shove off for a big adventure? Of course, you plan to address safety aboard before you make a passage or enter that offshore race. Good for you!
Being ready to deal with the unexpected while away from shore… Check! Register, and bring your crew too, for the US Sailing Sanctioned International Safety at Sea course, May 21 at the Houston Yacht Club organized by the National Women's Sailing Association (NWSA) with three women presenters. Female presenters will model skills women sailors have to offer perhaps increasing the likelihood women will be included on more crew lists. Women tend to promote a safety ethos, can be creative problem solvers, and a woman may become the skipper's rescuer.
According to Betsy Alison, Director of Adult Program for US Sailing, "Safety at Sea training is fundamental education for both racing and cruising sailors. US Sailing-trained Moderators help deliver safety content to sailors across the country in a format that is practical, engaging, and includes hands-on activities. It is important to US Sailing to have a cadre of Moderators that represent the demographics of the sailing population, and which is why we are increasing the number of women who are moderating and teaching Safety at Sea Courses. Nearly 3,000 sailors annually take Safety at Sea training through US Sailing-sanctioned programs and although the number of offshore racers taking safety training is not yet 50-50 male/female, the cruising demographics are very close to it! Having the female perspective of instructors alongside their male counterparts provides a well-balanced view of how teamwork both on and off the water is central to positive outcomes in the event of an incident at sea."
For cruising couples who double or sail short-handed, safety is reliant equally on crew and skipper. There is a more than a fair chance if someone goes overboard, a man would be rescued from the water by a woman. A man who accidentally goes swimming generally outweighs the woman who will be left on deck. She must take quick decisive action to save him. Common sense tells us it is impossible for an average-sized woman to be able to squat, reach down to the water, then lug her hefty loved one over the rail to safety (or anyone else, for that matter.) Women should not be overlooked when conducting essential training such as crew overboard rescue using a LifeSling, with the advantage of a lifting tackle. Women often opt to stay ashore, crushing the cruising dream or even the relationship, simply because of a lack of education. They may fear being involved in an unsafe offshore scenario, so say "No thanks honey!"
Racing offshore requires boats to have adequate safety equipment and often requires a US Sailing / World Sailing International Safety at Sea program certification for a percentage of crew. This requirement establishes a reasonable basis for handling incidents without outside assistance, since they may not happen close to shore or rescue personnel. While a small percentage of sailors have the opportunity to race offshore, an even smaller percentage of women get a chance to do so. Training is a key to changing the demographic imbalance. A female sailor with the Safety at Sea training has a tangible credential to help her gain access and credibility as crew.
Regardless of the type of sailing, whether racing or cruising, a crew that knows how to effectively use the required safety gear aboard is one of the best investments a skipper can make to protect themselves, their crew, and the boat. Gaining potentially life-saving knowledge and acquiring hands-on experience has been made easy by taking a US Sailing Sanctioned International Safety at Sea Course. The National Women's Sailing Association and US Sailing recognize training women and men together in safety matters is a path to better inclusion in the sport and lifestyle. The partnering of NWSA and US Sailing for Safety at Sea programs can help women and men confidently share the experience — the joys and thrills — of offshore sailing.
After completing US Sailing's newly updated 15 unit online Safety at Sea: Offshore curriculum participants will enjoy a full day of intensive hands-on learning of key safety and survival skills. In-person and hands-on training includes: proper use, maintenance and in-the-water experience with inflatable life jackets; using flares; fire prevention and fire-fighting; prevention and rescue of crew overboard; survival in the water including deploying, boarding and surviving inside a life raft.
And most importantly, you will contribute to the support of female instructors, who present this not only from a woman's perspective but from an experienced offshore sailor. US Sailing has invested in training knowledgeable and experienced female sailors to become moderators. Three women as key presenters for this International Safety at Sea Course marks a big steppingstone in offshore sailing equity.
Cost for the complete May 21 course is $350 and includes: 15-unit online course (must be completed before attending), a pre-event cocktail meet and greet, continental breakfast, lunch, classroom modules, hands-on and in-the-water sessions, the text book "Safety at Sea: A guide to Safety Under Sail and Personal Survival", and the Safety at Sea certificate. Hands-on only renewal (refresher) with certificate is $285.
Women, couples and of course men are welcome. Learn more and register now here.