Medway RC Laser Winter Series event 5 at Barton's Point Country Park, Isle of Sheppey
by Jamie Blair 19 Jan 00:53 AEDT 16 January 2022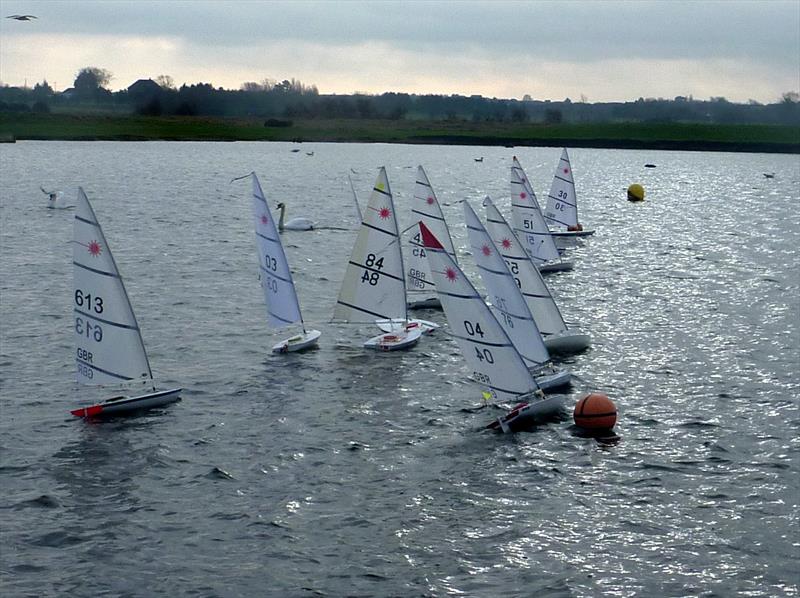 RC Laser Winter Series event 5 at Medway © Fiona Blair
With bright sunshine and a SW breeze 12 boats took to the water. Wind speed was at about 6 knots so without discussion the A Rig was boasted by all.
The course today was in front of the café to save the walk around the lake and would cater for the possible change in wind direction. Indeed, before the 1st race out went the trusty mark boat to reorientate the course for a right shift towards WSW.
Race 1 saw Jamie Blair (51) start in mid line and tack on to port to cross the fleet. The course provided a long enough length to race a triangle and sausage but separation at the windward mark still provided a bundle (eyesight being an issue too with A rig sails obscuring line of sight). Mike Brand (529) found a way through and took second with Andrew Nicholls (613) in third.
Andrew and Spencer Pope had their best few races of the year in the early races.
After Race 3 Jon Moon (84) lead the standings but it was very close for the first four (Jamie, Adrian and Mike).
With the wind shifting for a number of races the port tack flyer was always a possible. The fleet soon put a stop to this with more boats pushing towards the pin with seconds to go before the start. After race the same 4 were still neck and neck and we saw a great result from our newcomer Bob Woolford (76).
After the coffee break Adrian Tomlinson (30) started to pull away and with a couple of bad races Jamie and Jon dropped to 4th and 5th in the standings.
Mid fleet was also being super competitive with Spencer Pope (62) Leading Andrew and Mark Penny (03).
The day was as usual filled with the cry of "I missed the mark". Race 8 saw Tim Townsend (45) hit the finishing mark as he was about to get his first race win and have to take a penalty turn turning his bullet into an 11th in the blink of the eye.
By Race 10 Adrian had moved forward with an eight point lead but the pack of three wasn't far behind. Mid fleet was another game of changing places – Andrew was leading this pack but Tony Alexander (04) was catching up having had to take three races out for boat troubles.
After 14 races Adrian kept the top spot but only by 4 points to Jamie and a further 5 points to Mike. Mark Penny led the mid fleet in 6th. Jon Moon was just outside the top 4 with his consistent sailing paying off.
Round 5 gave us large fleet practice again and we did see a number of penalty turns – there still needs to be a better awareness of boat on boat interface at marks.
We look forward to the next round on Sunday 23rd January, weather and Covid permitting.
Round 5 Results:
| Pos | Sail No | Helm | R1 | R2 | R3 | R4 | R5 | R6 | R7 | R8 | R9 | R10 | R11 | R12 | R13 | R14 | Pts |
| --- | --- | --- | --- | --- | --- | --- | --- | --- | --- | --- | --- | --- | --- | --- | --- | --- | --- |
| 1st | 30 | Adrian Tomlinson | ‑6 | 1 | ‑5 | 1 | 2 | 2 | 1 | 1 | 2 | 1 | 1 | 5 | 4 | 4 | 25 |
| 2nd | 51 | Jamie Blair | 1 | 2 | ‑6 | 3 | 4 | ‑8 | 2 | 2 | 1 | 4 | 4 | 2 | 3 | 1 | 29 |
| 3rd | 529 | Mike Brand | 2 | ‑7 | 2 | 2 | 3 | 5 | 3 | 5 | 3 | 3 | 3 | ‑6 | 1 | 2 | 34 |
| 4th | 45 | Tim Townsend | ‑11 | 6 | 3 | 4 | 1 | 1 | ‑11 | 8 | 4 | 2 | 2 | 1 | 2 | 7 | 41 |
| 5th | 84 | Jon Moon | 4 | 3 | 1 | 5 | 5 | ‑9 | 7 | 4 | 9 | 9 | 8 | 7 | 5 | ‑11 | 67 |
| 6th | 3 | Mark Penny | 7 | 8 | 4 | ‑11 | ‑10 | 7 | 6 | 9 | 6 | 5 | 9 | 4 | 7 | 3 | 75 |
| 7th | 613 | Andrew Nicholls | 3 | ‑11 | (DNF) | 10 | 6 | 4 | 4 | 6 | 7 | 6 | 7 | 10 | 6 | 6 | 75 |
| 8th | 4 | Tony Alexander | 8 | 9 | (DNF) | (DNF) | DNC | 3 | 9 | 7 | 5 | 7 | 5 | 3 | 8 | 5 | 82 |
| 9th | 32 | Roger Gibb | 10 | 5 | 9 | 8 | 7 | 10 | 5 | 3 | 8 | 8 | (DNF) | (DNC) | DNC | DNC | 99 |
| 10th | 76 | Bob Woolford | 9 | (DNF) | 8 | 6 | 8 | 6 | 8 | ‑12 | 11 | 10 | 6 | 8 | 11 | 9 | 100 |
| 11th | 62 | Spencer Pope | 5 | 4 | 7 | 7 | 9 | (DNC) | 10 | 11 | 12 | 11 | (DNF) | 9 | 10 | 10 | 105 |
| 12th | 928 | Brian Lev'y | 12 | 10 | 10 | 9 | 11 | (DNC) | 12 | 10 | 10 | (DNC) | 10 | 11 | 9 | 8 | 122 |