Get your entry in for the Keyhaven Yacht Club 2000 Open on 12th & 13th June
by Alex Pepper 3 Jun 00:02 AEST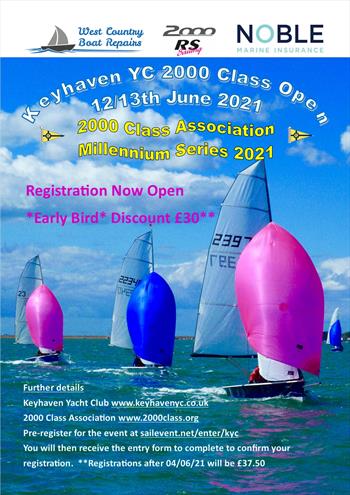 Keyhaven Yacht Club 200 Class Open Poster © Alex Pepper
Keyhaven Yacht Club is hosting a 2000 Open on the 12/13th June which is part of the LDC 2000 West Country Boat Repairs Millennium Series 2021 co-sponsored by Noble Marine.
This will be the first millennium event of the 2000 Association's calendar, with the first event unfortunately cancelled due to the weather.
Keyhaven has a growing fleet of 2000s and are hoping to put on an event to match last year's successful meeting of 20 boats. The setting at Keyhaven is very picturesque, with the club located at the end of a muddy creek in the lee of Hurst Castle.
From the club there is good access into the Solent where racing will take place over the two days with a windward leeward course. The 2000s have their asymmetric spinnakers in different colours, so if the sea breeze comes in it should make for a pretty sight.
Registration is now open with an early bird discount for those registered before the 4th June. Details at on the Keyhaven Yacht Club or 2000 Class Association websites.