A new dynamic for Swiss Sailing Team
by Swiss Sailing Team 28 Jan 01:37 AEDT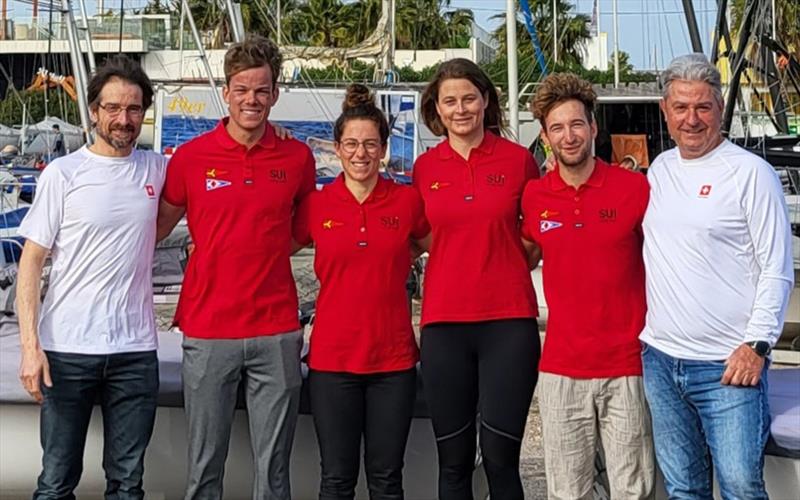 470 squad with Toni Otero, Cyril Schüpbach, Linda Fahrni, Maja Siegenthaler, Yves Mermod and Toni Ripoll national 470 coach. © Swiss Sailing Team
The arrival of the new Head Coach Elite Toni Otero and the development of a new training structure provide a new dynamic to the national sailing team, led since the beginning of the year by the Zurich-based sailor Christian Scherrer.
A wind of change is blowing through Swiss Sailing Team. After a change at the top of the team with Christian Scherrer's arrival and the development of a new, more horizontal management structure, SST announces that Toni Otero has been appointed as Head Coach Elite for the Olympic cycle until the Games in 2024.
"We are really happy that Toni is joining us as Head Coach for the next two and a half years", says Christian Scherrer. "We don't have much time left before the Olympic Games in Paris and it is important to optimise our efforts. Toni has been working with Swiss Sailing Team for many years now so he knows the team very well. With Toni, we have set up squad training, led by our national coaches with sailors of different levels. The purpose of this organisation is to increase efficiency in the support of the swiss elite team and to improve training quality."
Each sailor will be part of the training squad for his or her discipline, and will have a common coach. This approach will allow the development of a team spirit, as the most experienced sailors will pass on their knowledge to the younger ones, while the latter will bring their freshness and dynamism to the group. This new structure aims to promote a better exchange between sailors, in a win-win dynamic. It is also more profitable, with only one coach now in charge of each class.
The first training sessions for the 470 class, which will be mixed for the 2024 Olympic Games, took place in Vilamoura, Portugal. The Swiss 470 squad is made up of two teams with the well-known sailors Linda Fahrni and Maja Siegenthaler, who are now on different boats. The other squads, namely iQFoil, ILCA 6 and the 49er are running their training sessions in parallel or will have them over the next weeks.
"Until now, there was only one crew per discipline," says Toni. "Now we have, for example, three boys in iQFoil, who are close enough in level to work together. Same for the girls in ILCA 6: they will be able to help each other, both during regattas and whilst training. As for the 470 class, now mixed, we have combined the girls and the boys, who will train together. Finally, in the 49er class, the duo Sebastien Schneiter/Lucien Cujean is no more but Sebastien remains in the team. He will share his knowledge with the younger sailors, and help develop new synergies."